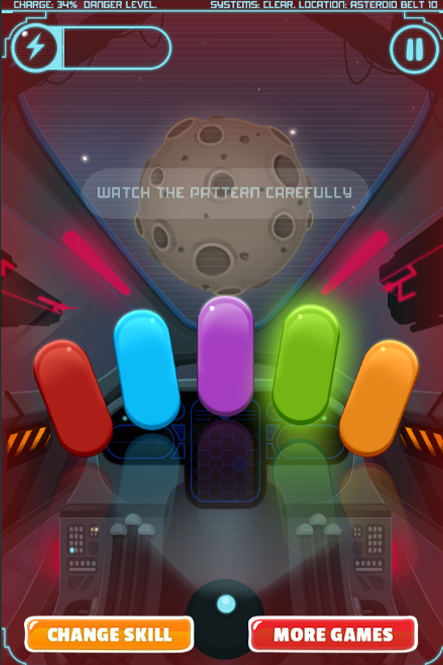 Welcome to our arcade section, where we have a variety of educational Math Games for you to play! Practice your math skills without getting bored with our unique selection of arcade games. All of these online games are mobile-friendly which means you can play them on your phone as well as your computer!
Game Details:
Math Defender is a challenging pattern recognition game that takes place in the farthest reaches of the galaxy. As the commander of your spaceship it is your job to charge the destructo-beam and smash asteroids before they smash you. In order to charge your beam you'll have to enter the correct code into your computer on a regular basis. The computer will show you a series of flashing lights, you must remember this pattern and repeat it in order to charge the beam. You must answer accurately in order to charge the beam and you must answer quickly on order to do it before the asteroud hits you. It's a hard mission but you're an experienced commander. Take control, save the day, and explore the galaxy in this exciting new sci-fi game.
Follow the pattern of flashing lights and then use your mouse to repeat it by clicking on the appropriate lights in the correct sequence. You must repeat the process as quickly as possible in orer to charge your laser and smash the asteroids. Inbetween levels and after you fail you will have the opprotunity to answer five math questions of the grade level and skill type you wish to work on.
Check Out Our Other Games