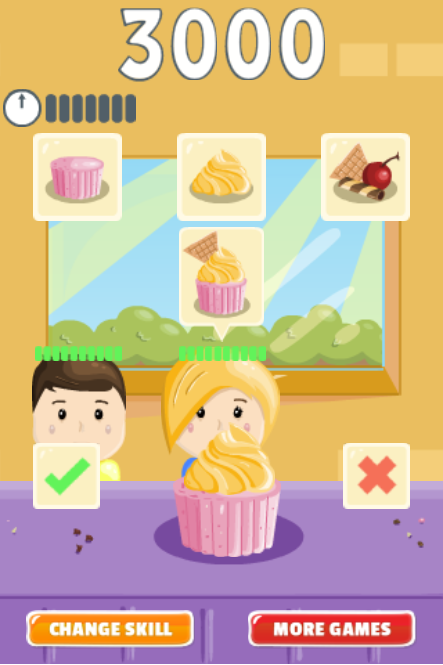 Welcome to our arcade section, where we have a variety of educational Math Games for you to play! Practice your math skills without getting bored with our unique selection of arcade games. All of these online games are mobile-friendly which means you can play them on your phone as well as your computer!
Game Details:
Smart Cupcake Stand is a fun resource management game where you are the owner-operator of your very own cupcake store. The cupcake sphere is a valuble niche marketplace which has inspired all kinds of cupcake wars for dominance. Do you think you have what it take to build your cupcake empire? In this game you'll take the orders of customers one at a time and then make them and deliver them as accurately and as quickly as possible. If you make your customers wait too long they will get mad and leave. If you dleiver the wrong order they won't pay. You need to balance speed and accuracey if you want to thrive in this world. Try your hand at becoming the smartest and most succesful cupcake stand in all the land.
In this game you will use your mouse to click on customers in order to get their order. After that you need to click on the available ingredients in the proper order in order to make and deliver the order to them. You need to deliver orders quickly and make sure they are accurate or your customers won't pay and you won't succeed. Inbetween levels or after you fail you will have the opprotunity to answer five math questions of the grade level and skill type of your choice.
Check Out Our Other Games