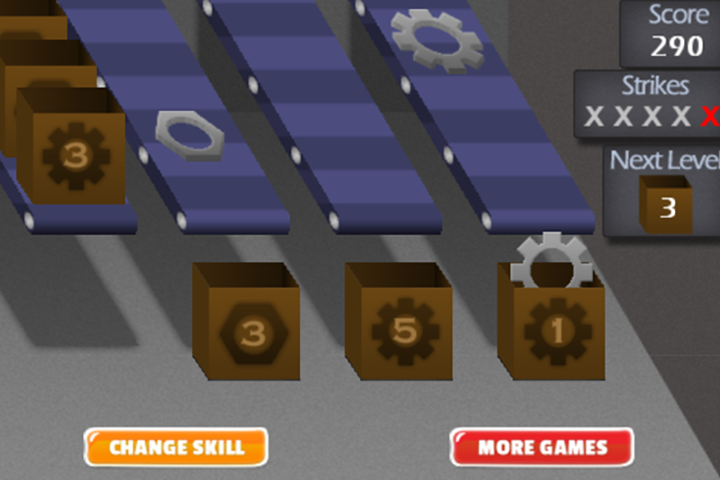 Welcome to our arcade section, where we have a variety of educational Math Games for you to play! Practice your math skills without getting bored with our unique selection of arcade games. All of these online games are mobile-friendly which means you can play them on your phone as well as your computer!
Game Details:
Math Rush is a puzzling game of pattern recognition, speed, and math. In this game you'll be tasked with sorting various parts into the appropriate boxes. It is a tough but noble job. Match the symbol on the box to the type of bolt coming off of the asembly line and make sure you don't let the box fill up. Each box only has a certain amount of bolts it will allow in it. The conveyor belt will never stop so you'll have to constnatly be swapping boxes in order to fill them up and ship them off. You have five strikes where you can mess up, but try not to do it at all. After all these are important parts and this is an important job.
Use your mouse to click on the box to the left and place it underneath the conveyor belt. You want to fill that box with as many of the matching pieces as you can. Do not let the wrong shaped pieces fall into the wrong boxes. Inbetween levels you will have the opprotunity to answer five math questions of the grade level and skill type of your choice.
Check Out Our Other Games